Typical Requirements While Availing Business Loans For Small Businesses
Businesses need money to run, and there will be plenty of instances when they will fall short of funds. Meeting the everyday goals or for long-term accomplishments, it is important that businesses have enough monetary assistance at arm's distance. Since this is practically not possible every time, businesses need to look for alternatives to help with their financing needs. This is when the business loans come to use, and with it, you can meet all or most of your business's financial needs. But before availing them, there are a couple of things that need to be reviewed and satisfied before a business funding is approved for you. Here is a quick glance of the requirements that the small businesses need to satisfy in order to be eligible to avail business loans.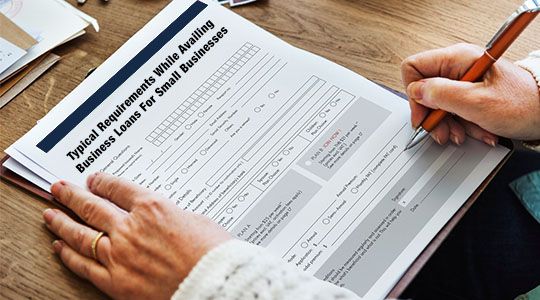 1. Your Mission Statement – It is essential that you describe your business, its mission, its current statistics, the annual sales turnover, and all other details to the financier so that you can highlight all the positive aspects of your venture. You can include details about how your venture is different from that of your competitors, and how getting the business funding will help improve the overall working and development of the organization.
2. A Good Credit Score – Most financiers will first look at your credit score while availing any type of loans and these numbers are known to play a major role in determining the approval or rejection of a possible loan. Generally, having a good credit score is like an open gateway to loan approvals, whereas, having a poor credit score may lead to more rejections than approvals. However, at instantcreditloansus.com, you can apply to avail the bad credit business loans that are available for business with a poor credit score or without an established financial history.
3. An Asset Base – Business loans are huge amounts, and so, most financiers will ask for collateral to be placed in return. Be it the office machinery, equipment, the real estate owned, the stocks, or the IPR, anything related to the business can be placed as an asset. And it is important to note that the loan amount will be approved in proportion to the value of the collateral being placed. However, all lenders do not ask for asset security, and there are financiers who provide the unsecured business loans that do not need any guarantee or guarantor.
4. Plan To Use The Funds – This is probably one of the most important requirements that the small businesses need to show the financiers. Only when you have a proper growth plan that shows you are going to use the availed business funding in a genuine way for running, growth, and expansion of the company, the lenders will be convinced about your authenticity. Having a solid business plan assures the financier that you have a clear idea of how you are going to invest the funds with a predictable return on investment, etc. Not having a plan is going to turn off the financier, and the chances of your business funding request being rejected are high.
5. Documentation – Risk and finances go hand in hand, and so, it is needed to document every bit of it. Not just to avoid any future possible hassles, financiers keep a check on your business's past financial statements to know how well you can manage your funds, and if it is worth approving the loan for you. If yours is a new venture without much documentation, the chances of getting the loan approved in the first go would be rare. However, any possible documentation that proves your stability and your efficiency, along with proper documentation of your future projections will instill confidence in the lender, and your loan request is likely to be approved.
Getting a business loan to meet your business's financial needs might sound like one of those easy financing ways. However, they come with their own pros and cons, and as a borrower, you need to be aware of all these aspects before making any financial decision. Understanding how the business loans work and what goes behind their processing is important, and as a business owner, if you have a clear idea of your business's financial requirements, you can convince the financier well. At instantcreditloansus.com, you can apply to avail suitable business funding, and if all the cards are in your favor, your request will be approved, and you can have the funds soon to be used to improve your business prospects.